Food Services and Cafeteria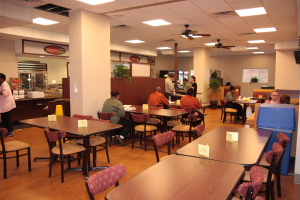 Maria Parham's Dietary Services proudly prepares nutritious and great tasting meals for patients. The specific diet you are on is determined by your physician. All special diets meet your nutritional needs and are monitored by a Registered Dietician. If you do not have special dietary restrictions, you will be allowed to select your meals from the menu provided to you.
Snacks and special dietary needs are available upon request. There will be times when your meals may be delayed due to special testing or as a precaution before procedures.
Family and visitors may eat in the cafeteria for breakfast, lunch and dinner.
Cafeteria Hours
Open to visitors between 7:30 – 9:00 a.m., 11:00 a.m. – 2:00 p.m., 4:00 – 6:00 p.m.
The Cafeteria offers a limited selection between 9:00 - 11:00 a.m. and from 2:00 - 4:00 p.m.
Τhere are vending machines located in the John T. Church Waiting Area, near the Emergency Department Waiting Area and in the Surgical Services Waiting Area for your convenience.
If you have any comments or concerns about your food or nutritional requirements, please speak to your nurse or call the Director of Dietary Services at extension 1339.