Duke Cancer Network
Maria Parham Health is a Duke Health affiliate. This affiliation allows us to receive the most current training and staff education when it comes to cancer care. Plus, we now have access to the latest Duke guidelines and cancer research. All of this adds up to an enhanced quality of healthcare, right in your own community.
To learn more about this affiliation, click here.
---
Meet our Providers:
Duke offers patients medical oncology and radiation oncology consultation and follow-up, as well as chemotherapy and radiation therapy treatment right here in Henderson at Maria Parham's cancer center. Click here to meet our providers from Duke.
---
Accredited Cancer Program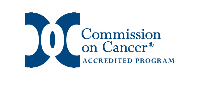 The Commission on Cancer (CoC) of the American College of Surgeons (ACoS) has granted a Three-Year Accreditation to Maria Parham Cancer Center. To earn voluntary CoC accreditation, a cancer program must meet or exceed 34 CoC quality care standards, be evaluated every three years through a survey process, and maintain levels of excellence in the delivery of comprehensive patient-centered care.
---
Maria Parham Cancer Clinic is a department of Maria Parham Health. When you see a physician or receive services in a provider-based clinic, you are technically being treated in an outpatient department of the hospital rather than the physician's office. Please refer to "Understanding your Healthcare Costs" to learn how your bill may be affected when seen by a provider in a provider-based clinic.
Understanding Your Healthcare Costs
Provider-Based Clinics - You may see a charge on your bill for the equipment, supplies, and services provided in one of our provider-based clinics.