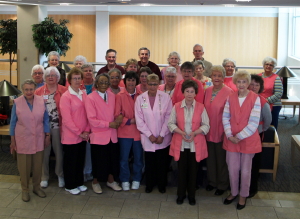 Maria Parham Health Volunteers are very special people. They serve the hospital without remuneration; however, our Volunteers say that an added sense of worth is their reward for the valuable services they provide to the hospital, patients and guests. Volunteers demonstrate a desire to contribute to the benefit and welfare of the community by helping others; they are one of the hospital's greatest public relations assets.
Our Volunteers are persons of all educational levels and work backgrounds. Everyone is unique and has something special to contribute. Volunteers provide services that supplement the basic, essential staff functions. In addition, they add to the comfort, care, and happiness of our patients and guests.
Funds earned through volunteer projects are used to provide health care scholarships, educational programs that promote good health practices, toys and books for pediatric inpatients and outpatients, and various department wishes.
The volunteer staff is an important entity to the successful operation of the hospital. For this reason, the volunteer's commitment to serve should be as firm as all other staff.
Volunteers range in age from 14 years old to senior citizens. Anyone who wishes to volunteer should call or come by the Volunteer Department for an application and a personal interview. During the interview, topics like services, hours and schedules will be discussed.
Volunteer Qualifications
Special talents or skills, although helpful, are not required as a volunteer. A sincere desire to help, relatively good health, and a willingness to donate time are the qualifications needed to be a good volunteer.
Training and Supervision
Once assigned, volunteers will be trained and supervised by employees who are responsible for the hospital area to which the volunteer is assigned.
Orientation
All volunteers go through an orientation program. In addition to a tour of the hospital, volunteers are given job descriptions, assignment days and hours, general standards for volunteers, and initial daily procedures.
Toys
Patients from birth to 12 years of age are given small tokens (like stuffed animals, books, coloring books, crayons, or puzzle books) to make their time here at Maria Parham more pleasant. These are all donated by local civic and church groups or purchased with funds raised by the Volunteer Department.
Teen Volunteer Program
The Volunteer Department coordinates a summer Junior Volunteer Program for males and females 14 to 18 years old. Applications are available upon request from the Volunteer Office. The Junior Volunteers serve in a variety of areas depending on the needs of our staff. Orientation, including a TB skin test, is required, and training will be provided.
Donations
Donations are accepted by the Volunteer Department. These contributions may be in memory of a loved one or may be a donation from an individual, civic, or church group. If looking for donation ideas, suggested items we keep on hand would be small stuffed animals, crayons and coloring books, picture books, playing cards, checkers, blankets for infants, small travel pillows, baby hats. Should you have an idea, please feel free to contact our volunteer office at 252.436.1564.
A PLACE TO SERVE...
Volunteers at Maria Parham Health become part of a team whose entire objective is to bring the best possible medical care to citizens of Vance and surrounding counties.