Welcome to Maria Parham Orthopaedics, where our providers specialize in the most up-to-date diagnosis and treatment of skeletal, muscular and sports medicine related conditions. Surgical and non-surgical options are explored and an optimal treatment plan is customized to meet the unique healthcare needs of the patient. Our providers offer services for every member of your family, including treatment of arthritis and other degenerative conditions, minor fractures, physical therapy, and general orthopaedics.
Our clinic is located in Medical Office Plaza behind Maria Parham Health, conveniently located off of exit 212 of I-85.
Meet our dedicated providers at Maria Parham Orthopaedics: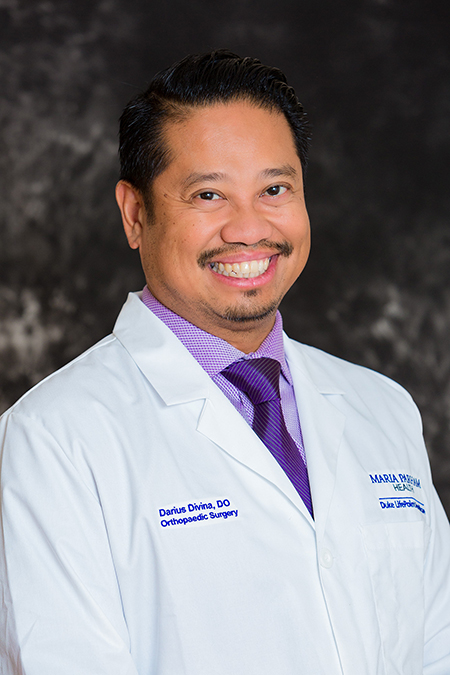 Dr. Darius A. Divina
Address & Phone:
Medical Office Plaza
120 Charles Rollins Road, Suite 102
Henderson, NC 27536
(252) 436-1314 (P)
(252) 436-1315 (F)
Hours:
Monday - Thursday 8:00am - 5:00pm
Friday 8:00am - 12:00pm

Services Include:
Foot & Ankle
Hand & Upper Extremity
General Orthopaedics
Evaluation & Care of Arthritis
Shoulder, Elbow & Knee Surgery
Sports Medicine
Physical Therapy
Non-Operative Orthopaedics
Minor Fractures
Carpal Tunnel Surgery
Additional Practice Info:
Insurance Policies - We participate with most insurance plans, but it is your responsibility to call your insurance carrier to determine whether or not we are included in your particular plan. Also, if your plan requires a referral from your primary care physician for specialist office visits, you are responsible for obtaining this referral. As a courtesy to our patients, we submit claims to all insurance companies provided we have complete and accurate information. Any co-payments are due at the time of service.
Appointments - Either you or your referring physician may make appointments by calling our office at (252) 436-6571. Appointments are made in advance, but urgent cases can be seen quickly in most instances. If you are unable to keep your appointment, please call our office at least 24 hours in advance.
Telephone Calls - Except in emergencies, our providers do not accept calls during office hours. Our office staff is experienced and able to answer most questions and are happy to relay your message to the providers.
Prescription Refills - Prescriptions cannot be refilled after normal working hours or on weekends. Please allow at least three business days for refills to be processed.